November 5, 2021
Dear Friends,
Thank you so much for praying for Antoinette's safe return.  After 37 hours of travel, Antoinette finally arrived in Seattle at 6:00 pm on November 4th (yesterday).  I keep receiving warning emails from the State Department every day for three days in a row declaring all Americans to evacuate from Ethiopia.  It is our prayer that the Lord will protect the Ethiopian people from any form of evil.
Under the banner of Proclaim African Evangelists Congress, evangelists from all African countries will gather in Kenya in early December for a historic evangelist Conference.  Antoinette will represent DCMi at this conference and speak on the topic of evangelism and prayer.  Please pray that she will rest well and get her work done in the upcoming month so that she will have no emotional and physical restraint in traveling to Africa again.  You can see more about this conference here: 
https://proclaimcongress.com/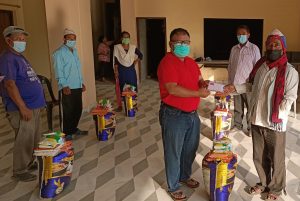 The Nepalese churches are grateful for our second food supply this year as Covid and flood have severely damaged the country and the lives of its people.   As poor as Nepalese churches are, the National Churches Fellowship of Nepal added $103.04 of their own money to the $10,000 relief fund we sent them to evenly distribute food to 365 families living in 7 different provinces of Nepal.  The Board of Directors of DCMi is always encouraged to hear of our partners also contributing financially to a project because this can be an indication of how much they care about their own suffering people.  "For where your treasure is, there your heart will be also," said Jesus in Luke 12:34.
Thank you so much for your partnership.  We pray for God's blessing upon you as well.  May His kingdom come even during the Pandemic because in use of our commitment to His purpose.
With much gratitude,
David