Dear Friends,
The rainy season has started in the Pacific Northwest, but we enjoyed beautiful weather throughout the summer. My time this summer was spent continuing with as many ministry-related activities as possible while dealing with a severe flare-up of my ulcerative colitis. I have had this disease for 29 years, but this was one of the worst flare-ups I have experienced in recent years. One of my important goals this summer was to visit with my ministry partners over a meal and personally express gratitude for their love and support. It is regrettable that due to my physical condition, I was unable to do much of that. Thankfully through the prayers of friends and supporters and putting myself on a strict diet, I am beginning to feel better.
A highlight of my summer was getting re-connected with my daughter Amy who lives in the Los Angeles area. She is 22 now and has become a sweet and beautiful young woman. I had the privilege of praying with her to receive Christ during our visit and we are communicating regularly these days. I am so grateful to the Lord for answering this prayer of many years.
One of DCMi's core ministries is to develop leaders in the unreached areas of the world. In Nepal, where evangelism has been prohibited by law, we are planning to launch a leadership development program to equip young people as future leaders of Nepal.
I enrolled in John Maxwell's leadership development program last winter and have been studying leadership principles online from John Maxwell and his leadership faculty so that I can invest in these future leaders. John Maxwell is known as one of the most influential leadership gurus of our time. Following the design of the course, I attended The International Maxwell Certification Conference in Orlando in August and was certified as a John Maxwell Coach, Trainer, and Speaker. Now I am licensed to use some of Maxwell's leadership development curriculum and programs for my own ministry.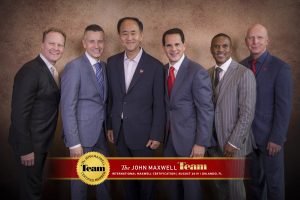 No man can give others what he or she does not have. This greatest need of our time is to have leaders with vision, integrity, and skill. Please pray that I will CONSISTENTLY develop myself first as a trustworthy leader so that I can be a genuine example and effective trainer of future leaders.
I was discouraged at times this summer as my illness seemed to continue indefinitely. Although I am doing much better, I still have intestinal inflammation. My desperate prayer has been, "Father, please heal and restore me. Then, use me as your agent of healing and restoration." My hope is in the Lord, my good, good Father and my Healer.
Sincerely Yours,
David Chun