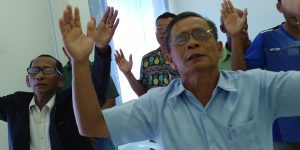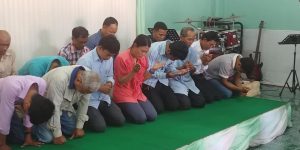 Reverend Horm Suey, the current Chair of the Pastors Association of the Banteay Meanchey Province of Cambodia, is a very warm-hearted and meek person.  When this association decided to host a citywide gospel festival with DCMi, he gave a word of encouragement to the association leaders.  Throughout his speech, he neither raised his voice nor changed his facial expression.  In a sense it was a boring speech.  What it this, though?  All the leaders in that place were paying close attention to what he was saying!
It is not too hard to figure out who the leader is in a group you are not familiar with.  If you observe a group discussion, you will see the leader arise; for when a leader speaks, everybody listens.
Horm Suey faced death many times as a Cambodian Army soldier who fought the rebel soldiers in the Civil War.  When rebels finally surrendered to the invading Vietnamese Army, the war ended and Horm Suey returned home.  Though the war was over, Horm Suey brought his gun and ammunition home with him.  The war seemed to have turned him into a ticking time bomb.  Although he had no interest in the Lord, a pastor fervently prayed for him and repeatedly shared the gospel with him over a three-year period until he finally accepted Jesus as his Savior and began to attend church.
In his early Christian life, Horm Suey expected that his church would financially support him but it didn't take him long to learn otherwise.  In unreached areas, local churches are usually poor and in desperate need of outside support.  Frustrated, he began to consider forsaking Jesus and leaving church.  It was about that time that his youngest child, 4 years old, became sick.  The doctor said she had a serious congenital disease which was curable.  The only problem was that Horm Suey had no money to spend for his daughter's medical treatments.  He decided to ask his wealthy uncle for help, but his uncle refused because Horm had abandoned the religion that family had long believed in—Buddhism.  His siblings would not help him for the same reason.  Horm's wife was fussing at him every day to leave the church.  As Horm was trying to make up his mind a Bible verse came to his mind.  "Whether we live or die, we belong to the Lord" (Rom. 14:8).
He uttered, "God, if you are truly alive and we belong to you, would you make my suffering daughter to call me 'Dad' now?"  Right then, the daughter who had suffered many days in bed without speaking barely opened her eyes and said, "Dad."  He could not believe what he had heard.  He uttered again, "God, if you are truly alive and we belong to you, would make my daughter ask me for water?"  His daughter continued, "Dad, I am thirsty, would you give me some water?"  A sense of fear came over Horm Suey. He uttered one more time, God if you are truly alive and we belong to you, would you make my daughter ask me for food?"  His daughter said, "Dad, I am so hungry.  Would you give me something to eat?"
As she began to eat, she slowly recovered.  In the end the Lord completely restored her health without doctors and medication. This experience transformed Horm Suey and his wife into passionate soul winners.  Some twenty years have gone by now.  Reverend Horm Suey has become not only the most influential pastor of Banteay Meanchey of Cambodia but also one of the most respected spiritual leaders in his community.  His influence also spills out of the four walls of the church.  He often meets with the governor to build a bridge between the church and the government.  While I was sitting with the leading pastors of Banteay Meanchey, he said,
"Thankfully, our pastors have long been united in spite of denominational differences. In this spirit of unity we have long prayed for God's kingdom to come to our province.  The time has come now.  When I met Pastor Chung for the first time last spring, I immediately knew he was the man God sent to us.  Therefore, for the first time in my life, I went to the airport two hours away from our town to pick up this foreigner. Our pastors have decided to invite Pastor Chung to come hold a citywide gospel festival in our city.  The only thing left for us to do is to work together with him to bring God's kingdom to our province."
The pastors responded with a thunderous "Amen" and a round of applause.  My heart is filled with joy and fear.  What a privilege that we can go to seriously unreached areas of the world, unite all the churches of that region, and work together with them to create a movement of the gospel!  My soul rejoices in God's grace.  Please pray that our DCMi leaders will have discernment about how to support these wonderful pastors without making them dependent on outside resources.