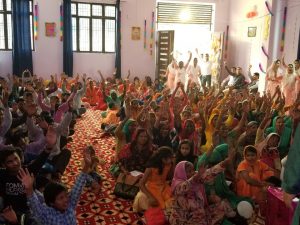 Revival in Saharanpur written by S.Y., a missionary serving in Saharanpur, India
– A gospel tract blown by the wind
Because of the strong anti-Christian policy of the Indian government, all British missionaries left India in 1983, and the Christians who depended on their financial support scattered. The situation of Saharanpur was no exception. The churches British missionaries had built in Saharanpur became empty and locked. Saharanpur became a spiritually barren land without an active church or a Christian, let alone a pastor.
It was not until every source of hope dried up that God began to work in his own way. One day the wind carried a gospel tract and dropped it at the feet of Chand Khali. Since she was illiterate, she asked her son, an elementary school student, to read the paper she had picked up. After listening to her son, she accepted Jesus into her heart as Savior and Lord.
– The voice of the Holy Spirit and miracles
Since Chand Khali accepted Jesus, she began to pray in Jesus' name. Although she had neither been to church nor read the Bible, she prayed faithfully following the guidance of the Holy Spirit. One day as she was praying, the Holy Spirit spoke to her, "Throw out all of your household idols." In obedience to the Holy Spirit, she burned all the household idols. Her husband was outraged, but she continued to obey the Holy Spirit. Gradually, the Lord started to work through her.
One day, a neighbor woman came to visit and poured out her heart to Chand Khali. She had been married for 6 years, but she was without a child. She had prayed to every god for a child without success. Chand Khali spoke to her, "The reason why all those gods you prayed to for a baby did not answer your prayers is that they are false gods. The real God is not among them. You need to pray to the real God." The woman replied, "Who is he?" "His name is Jesus!" said Chand Khali. Though it was her first time hearing the name of Jesus, this woman was determined to serve Jesus and began to pray to Jesus for a child. Exactly a month later, this woman returned to Chand Khali with a big smile on her face. "I am pregnant with a baby. Jesus is truly the real God." It did not take long for this story to spread in the community. Many married women without children began to come to see Chand Khali. Chand Khali told them just two things. "Jesus is the real God. You have to burn all household idols if you will serve Jesus." All these women practiced Chand Khali's advice and became pregnant in a month. The story of this miracle immediately spread even to the neighboring towns and communities.
-Expansion of the gospel and the birth of the church
Apart from sterile women, people with all kinds of diseases were coming to see Chand Khali. She always told these people the same two things before praying for them. Most of these people were healed by the power of the Holy Spirit. Because the size of the crowd coming to see Chand Khali was steadily increasing, Chand Khali could not take care of her family anymore. So she told these people that she would pray for them only on Saturdays. She devoted herself to praying for sick people fully on Saturdays even past midnight. Since those that came to receive prayer from far away could not go home late at night, they tended to spend the night on Saturdays at Chand Khali's house and worshipped God together on Sundays before they left. This became the first indigenous church of Saharanpur since the British missionaries left. The manifestation of the Holy Spirit through Chand Khali was so powerful that seriously sick people that even hospitals gave up on such as demon-possessed people, cancer patients, and people with paralysis were healed. As a result, many people forsook idols and came to Jesus. One record says that in the year 2001, around 1732 families forsook their idols and attended Sunday morning worship service at Chand Khali's home. Since each family consisted of 5-8 members, over 10,000 people forsook idols and came to Jesus in this spiritually barren land without the Bible, churches, and pastors.
-Persecution, endurance, and fruits
The year 2001 is an unforgettable year for the early Christians of Saharanpur. Threatened by the explosive growth of Christians and Christian churches, Hindus and Muslims laid pressure on the police. The police allowed the Hindus and Muslims to surround Chand Khali's home for a year. During this time Chand Khali's family was in a sort of house arrest. Nobody was allowed to go out without specific reasons and no family members were allowed to come in for any reason. To make it worse, the Hindus and Muslims beat up Christians that came to worship with Chand Khali and threw them out. Persecution as such lasted for a year in that town and the persecutors thought they successfully crushed this indigenous church meeting at Chand Khali's home. During this time Chand Khali's husband cruelly beat up his wife with a stick and seriously injured her back. Chand Khali was paralyzed. It was a time of serious testing for Chand Khali herself and the Christian church. Not being able to walk on her own, Chand Khali spent her time mostly praying during the whole year.
The time of crisis was a time of a new beginning with God. Because Christians could not access Chand Khali's house for worship service on Sundays, following the guidance of the Holy Spirit, they began to hold worship services in their own towns and villages. This was the beginning of approximately 50 home churches in various locations. Without solid leadership, Christians began to meet at fellow believers' homes. Gradually leaders were raised. The outcome of this fiery persecution was the beginning of 50 indigenous home churches 15 years after the gospel tract blown by the wind was at the feet of Chand Khali.
-Settlement of House Churches and Training Pastors
The following 10 years can be marked as the era of these home churches' healthy settlement. It was during this time that pastors were prepared through training. A seasoned pastor who had worked with British missionaries before they were expelled joined this movement and provided biblical training for potential leaders. And these trainees began to serve now as pastors of the house churches. During the persecution, some people left the church, but those that remained had to be trained for 10 years because they did not know anything about Christianity except forsaking their household idols and praying in Jesus' name. It was during this time that they started Youth Camp to share their faith in and commitment to Christ with the next generation of young people.
-Downturn and limitations
It was during the period of 2004-2011 that the primitive house churches developed as polished New Testament churches. As their pastors were trained, their ministries became systemized. However, churches stopped growing during this time. From 2010, churches began to fall into mannerisms and began declining. The believers became passive and stopped gathering at churches except for Sunday mornings. The vital relationships they once had with Christ slowly turned into just a religion. The average attendant at each of these 50 house churches was only about 30-40 people.
-One frustrated missionary
After having made disciples in a Muslim area for 10 years, one missionary couple slipped into a slump. Although they baptized over 100 Muslims and worked hard to develop them as disciples for 10 years, none of them was truly developed as ardent followers of Christ. Of these, they picked 12 people and intensely developed them for 3 years. They tended to grow and mature, but whenever they were exposed to waves of financial problems, security problems, and sexual temptations, they fell. It was a serious dilemma to see that these people had never truly changed in spite of their countless exposures to the gospel. The missionary couple gave up, took their Sabbatical leave, and returned to their homeland. Having returned home, they cried out to the Lord, "Is this the so-called power of the gospel? Is it impossible to truly transform people? During the whole Sabbatical leave, this missionary couple fought God with all kinds of complaints until they heard the voice of the Holy Spirit coming from the bottom of their hearts.
"What about yourselves? Have you ever been truly transformed?" Trembling in fear at this unexpected rebuke of the Holy Spirit, this missionary couple seriously saw themselves for the first time. They themselves were just as hard to change as the Muslim people they had worked with. Although they were called "missionaries," they saw themselves still tempted by the allures of financial stability, safeguarding their own security, and of sexual temptations. While they were condemning themselves and facing their own shortcomings, the Holy Spirit spoke to them again, "Do you have the gospel that has truly changed you? Do you have the gospel that compels you to preach because it has transformed you?" At this voice, the missionary couple searched their own hearts for the first time. They knew of the meaning of the cross. They have preached about the cross many times over. They discovered, however, that they had never truly encountered the cross themselves. They knelt in their prayer closet and sought the Lord for 6 months repenting from their sins and asking God to meet them. While seeking the Lord in this fashion, they felt something was slowly happening from within their own hearts.
-Beginning of a revival
After the sabbatical was over, the missionary couple returned to Saharanpur, this time with fire in their hearts. They assembled the leaders and shared the words that overflew from their hearts. An unexpected miracle took place. These leaders began to weep. Since they always appeared to have been after the missionaries' money, their tears meant something was fundamentally different this time. One of these leaders asked the missionaries to come to preach at a children's camp next week. There were some 50 elementary school kids at the camp. Once the missionary opened his mouth to speak, a powerful message came out of his mouth. Although his message lasted over 2 hours, the children were literally sucked into the message. All the children wept and repented from their sins. The leaders that were there sensed that God began to work. So these leaders invited this missionary to come to speak at their camps one by one. Throughout the whole month, he spoke at 30 different children's camps and the power of God came down accompanied by many signs and miracles.
-Coming from above
Even the missionary himself could not totally understand what was happening. He only knew for sure that he was possessed by a certain power and people began to repent wherever he went to speak. Now that the children's camps were over, it was time for adult revival meetings. On the first day of the revival, around 25 adults came. Of course, there was a powerful manifestation of the Holy Spirit in the revival. The news spread and some 70 people came to the revival the next day. The revival lasted for five days and the power of God came down to people every day. They repented and held fast to the fire of prayer, which spread all over.
-Spreading the fire and the works of God
All house churches were set on fire. As the "dead" church leaders became fiery prayer warriors, the ice-cold house churches began to catch the fire of the Holy Spirit. They met every day to pray. People were saved and their churches began to double in size in a few months. Caught by the fire, the missionary kept holding all kinds of prayer rallies including a Pastors' Prayer Rally, a Pastors' Wives' Prayer Rally, a Young Adult Prayer Rally, a Women's Prayer Rally, and a Gospel Festival for Muslim Seekers. He traveled to different churches every Sunday preaching the gospel. At every meeting the Holy Spirit powerfully manifested Himself. The blind began to see; the dumb began to speak; the paralyzed got up and walked, and demons left people at every meeting. He did not even have to lay hands to pray for these people. The Holy Spirit did his own work. The size of the crowd coming to hear him preach steadily grew to over 1000 at a time. Packed crowds sat even on the stage by the podium! As so many young and old became ardent prayer warriors, they began to share the gospel in the streets, on buses, in marketplaces, and on college campuses in spite of the fact that they were living in a Muslim-saturated city.
-Extension of the gospel and growth of local churches
A powerful revival movement hit Saharanpur in 2014-2017. Each year over 2000 people became Christians during this period. As a result, among 1300 townships and villages, churches were planted in 600 of them. As hundreds of young adults committed themselves to the cause of the gospel, the Christians set a goal of sending 1000 missionaries to various parts of India. All house churches kept growing. House churches that used to have around 30-40 people grew to have 250-300. In every village where churches are planted, Christians are meeting to pray every day. Now they are dreaming to plant churches in all 1300 towns and villages so that prayer meetings will be held every day in these 1300 communities.